Managing all the social media channels for your business can be overwhelming and feel like a full-time job!
Unfortunately, as a business owner you have a million other tasks required to run your business. On top of that, you're likely not generating tons of revenue yet, which means free tools are crucial!
That's why I'm going to show you exactly how I consistently post content to all my social media channels without spending a dime!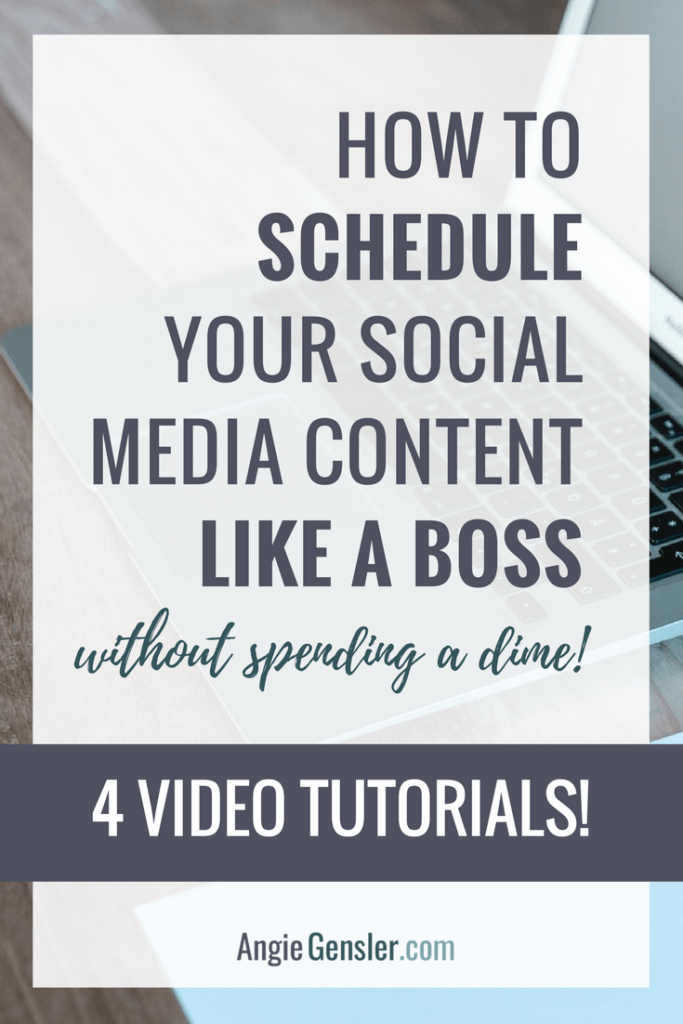 Please note this post may contain affiliate links and I may earn a commission if you click them and make a purchase.  This is, of course, at no cost to you, and I only share products that I use and love myself.  Please read my disclosure for more information.
Before we get started, I'm going to jump on my soap box real quick and urge you to narrow down the number of social media profiles you manage. Select 2 – 4 channels that are best for your target market, and then I want you to select only ONE in which you fully engage. All the rest, I want you to schedule and automate.
Personally, I fully engage with Pinterest and I schedule posts to my Instagram, Twitter, Facebook, LinkedIn, and Google+ pages. I talk about the importance of selecting just one channel in my blog post: Why you're not mastering social media, and what you can do about it.
Next, I want to share my one exception to free scheduling, which is Pinterest. I pay for Tailwind to schedule my pins, and it is worth every single penny! I made the decision to invest in Tailwind for a few reasons.
First, I have not found a free tool that allows me to schedule unlimited pins throughout the day, so I elected to spend the $15 per month for Tailwind. Side note, comment below if you know of any free Pinterest scheduling tools!
Second, Pinterest is the number one source of traffic to my website. To maximize the traffic Pinterest generates, I chose to invest in Tailwind.
And third, Tailwind saves me HOURS of time – which is absolutely worth $15 a month.
Ok, now that I got Pinterest out of the way, let's dive in!
I'm going to show you exactly how I schedule content to Facebook, Twitter, LinkedIn, Instagram, and Google+ using completely free tools!
Below is a list of the tools I use to manage my social media content:
Now let's walk through these tools in detail. I've even created four video tutorials to demonstrate my super simple process.
Canva
Canva is nothing short of amazing. I've been a loyal Adobe user for years, but after one month of using Canva, I was hooked! I love Canva for so many reasons, but my favorite feature is the layouts tab. This tab is loaded with professionally designed templates in the exact dimensions required.
For example, you need to design a YouTube thumbnail image but don't know the exact dimensions? Good news! Canva knows the exact dimensions, and they have a ton of templates you can use!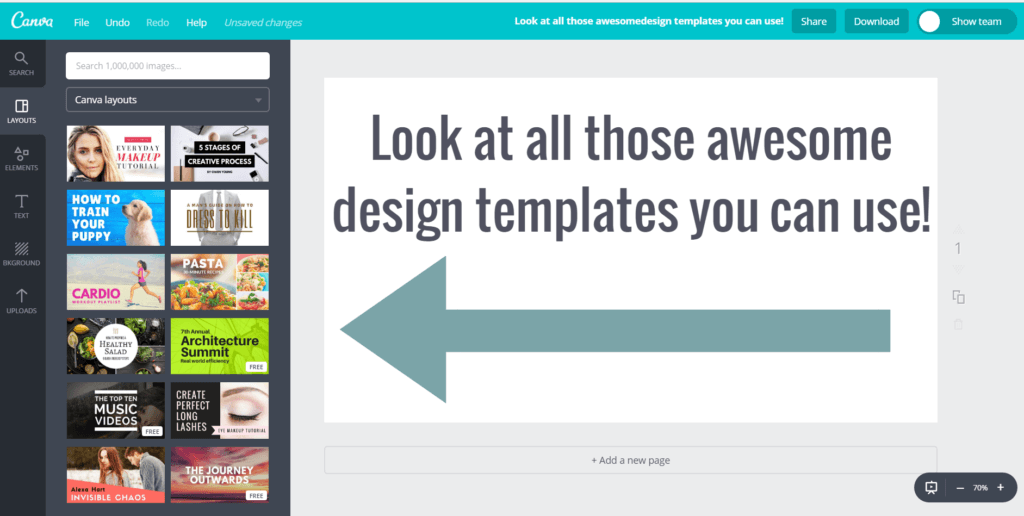 I use the free version of Canva to design all the images and graphics for my blog and social media posts. You can quickly create a free account at Canva.com. The tool is super intuitive, but if you need help getting started, let me know in the comments below and I'll be happy to create a video tutorial.
HootSuite, Feedly, & Google Chrome Browser
HootSuite is a social media management tool that allows you to monitor all your social media channels and schedule your content. I use the free version of HootSuite which allows you to connect up to three social media profiles.
I use HootSuite to schedule other people's content, which I curate using Feedly. Watch the video tutorial below to learn my exact process on how I find content on Feedly and schedule it through HootSuite.
I've used HootSuite for years and I adore this tool! That said, I do have one complaint. It doesn't allow me to easily recycle my content, which is why I use it for curated content that I only plan on sharing once.
My own content, on the other hand, is content I plan to share often! Enter Buffer.
Buffer & Google Sheets
Buffer is a social media management scheduling tool that does allow you to recycle posts. For that reason, I use Buffer to schedule posts promoting my own content.
I use Google Sheets to keep track of all the social media posts I've written to promote my own content. Watch the video below to see exactly how I use Google Sheets and Buffer to quickly and easily schedule posts promoting my own content to my social media channels.
I also use Buffer to schedule my Instagram posts. Buffer sends you a reminder at the time you specify and then you open the Instagram app on your phone and complete the posting process there.
Once I'm in the Instagram app, I opt to share the post on my Facebook page, but not to my Twitter. Why? When you post to Twitter straight from Instagram it shows up as a link, not an image. See the example below.
Social media doesn't have to be so hard and it doesn't have to consume all your time! Become… https://t.co/hpqpDHY6Fj

— Angie Gensler (@AngieGensler) December 27, 2016
See what I mean? That sucks! The image doesn't show up, just a link to Instagram. Which NO ONE is going to click, by the way. The good news is, there is a better way to do this using IFTTT.
IFTTT
IFTTT stands for IF This, Then That and it's a free tool that allows you to connect two tools together and automate basic actions. I use IFTTT to share my Instagram photos as native images within Twitter. See the example below.
No one said it would be easy, but when you're working hard to achieve your dreams it's def… https://t.co/oWBHPziXsd pic.twitter.com/Mzq8rQEaP3

— Angie Gensler (@AngieGensler) January 3, 2017
See how much better that looks? And it drives tons more engagement!
For years I was too overwhelmed by IFTTT and assumed it was complicated so I never touched it. Wow, do I regret that! IFTTT is so simple! To prove it to you I've created a short tutorial video.
Social Media Content Calendar
The last tool I use to help me schedule social media content like a boss is a social media content calendar. I created this calendar to inspire ideas and help me consistently post unique content every single day of the year. Check out this quick video to see exactly how I use this calendar to keep my social media content fresh.
Fill out the form below to download your copy of the calendar.
Let me know in the comments below of any free resources that you personally use to schedule content.  I love to learn about new free tools!